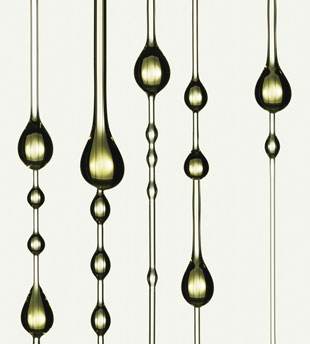 All our ingredients are 100% certified organic, organic, Wildcrafted, natural, cold pressed or steam distilled. The steam distillation uses a low temperature extraction process, which does not harm the richness of natural properties and attributes. Ingredients are pure and do not contain any additives or chemicals; they are not hydrogenated and are free of GMOs (genetically modified organisms).
Acai berry oil (Euterpe oleracea Fruit Oil)
The Acai Palm, also known as the Assai Palm, is a species of palm trees native to Brazil and other regions of South and Central America. The small berries have been prized for generations by the region's tribes for the healing and energizing sustenance that they provide both as an edible fruit and nutritive oil. Acai Berry Oil is rich in anthocyanins and phenols making the oil a very powerful anti-oxidant and anti-inflammatory. Its significant content of anthocyanins is reported to be 10-30 times higher than the anthocyanin content of red wine grapes. Acai Oil's rich array of nutrients and anti-oxidant and anti-inflammatory action make the oil a remarkable ingredient in anti-aging skin care products. This oil penetrates the skin quickly.
Algae (ahnfeltia concinna) extract
Algae are packed with nutrients including: vitamins, minerals, trace elements and alginate. Algae are believed to promote skin hydration, protect cell activity and act as antioxidants. It normalizes the skin's moisture content and provides suppleness and firmness to the epidermis.
Aloe Barbadensis Leaf Juice
From the aloe vera plant. Aloe is known for its hydrating, softening, healing and anti-inflammatory properties.
Alkanet Root(Anchusa tinctoria)
From the roots of the plant also called Anchusa tinctoria, alkanet root is a great source of natural color from purple to pink. It is excellent for skin inflammation. Traditionally used to soften and smooth the skin.
Almond Oil, Sweet (Prunus amygdalus dulcis)
A light, nearly odorless oil, it is said to have great nutritional value for all skin types. It is easily absorbed and is close to the natural sebum produced by the skin. Filled with vitamins A, B1, B2, B6 and E, sweet almond oil is also rich in protein. Helps relieve itching, soreness, dryness and inflammation Apple: Toner, nutrient. supplies vitamins, acts as an antioxidant Nourishes deprived skin, tones and rejuvenates the skin.
Alpha Lipoic Acid
Alpha lipoic acid is a fatty acid found naturally inside every cell in the body. It's needed by the body to produce the energy for our body's normal functions. Alpha lipoic acid converts glucose (blood sugar) into energy. It can be found in very small amounts in foods such as spinach, broccoli, peas, Brewer's yeast, brussel sprouts, rice bran, and organ meats. It may very well join the ranks of Vitamin C and E as part of your first-line of defense against free radicals. It is known as the Universal Antioxidant. It neutralizes free radicals in both the fatty and watery regions of cells, in contrast to vitamin C (which is water soluble) and vitamin E (which is fat soluble). It directly recycles and extends the metabolic lifespan of vitamin C and Coenzyme Q10, and it indirectly renews vitamin E.
Argan (Argania Spinosa)
Argan Oil - Extracted from the kernels of the Argan tree, this emollient oil protects your skin by stimulating new cell formation. It is naturally high in vitamin A and E, essential fatty acids and antioxidants, argan oil is an anti-aging rock star, used by women in Morocco for centuries to ensure supple and youthful skin. It delivers a full day of moisture protection while softening and decreasing wrinkles with a high dose of plant squalene and healing sterols.
Arnica (Arnica montana)
A plant from the daisy family, with radiant yellow flowers, Arnica grows up to two feet in the mountainous regions of Europe and western North America. It has wound healing, disinfecting and anti-inflammatory properties. It aids tissue regeneration, relieves pain and soothes sore muscles. Its anti-bacterial and anti-inflammatory qualities can reduce pain and swelling, improving wound healing, reduce inflammation and bruising, soothe muscle aches and arthritis, rheumatism, sore or painful joints, stimulate blood circulation. It disperses trapped, disorganized fluids from bumped and bruised tissue, joints and muscles, stimulating the activity of white blood cells that relieve congested blood cells.
Arrowroot Powder (Marantha arundinacea)
From the genus of plant Marantha arundinacea, this is a natural powdered root starch white in color and very light in weight. Arrowroot powder is used as a thickening and stabilizing agent, as a base for some of skin care formulations, and it is the main foundation for most body powders. It also has great moisture-absorbing properties.
Beeswax (Cera Alba)
is a natural secretion of the honeybees, and in its raw state, has the wonderful sweet aroma of fresh honey. The Beeswax used in skin care is carefully melted and filtered to remove any impurities while leaving some of the delicious scent behind. Beeswax helps to emulsify and thicken lotions and creams, hold together lip and body balms, and forms a protective barrier between your skin and the environment.
Benzoin resin (Styrax)
Botanical Name is Styrax Benzoin-benzoin resin in external skin applications heals cuts and sooths inflammation of rough cracked skin. Benzoin is indicated for use where there is redness, irritation, or itching. The dark, vanilla-like resin also acts as an anchoring base note for aromatherapy blends.
Bergamot Oil (Citrus bergamia)
Citrus bergamia, possesses a lovely light, fresh, floral citrus aroma that is uplifting, rejuvenating, and balancing. It helps to alleviate fatigue due to stress. It is known to help relieve skin irritations, and is helpful in the treatment of eczema, psoriasis, acne, wounds, ulcers and herpes. Bergamot Essential Oil helps to balance the skin and helps repel insects. OBVITA Organics Bergamot Oil is bergaptene free, this allows the Bergamot to be used in skin and hair care formulations without worrying about sun exposure after use.
Black Currant (Ribes nigrum) Antioxidant
Provides mineral salts, trace elements, and organic acids. Soothes, calms and facilitates restoration by strengthening and protecting the skin.
Burdock (Arctium lappa)
The root contains tanning agents, Vitamin C and essential oils. Burdock Root is traditionally used for the treatment of acne-prone skin and to help alleviate dry and scaly skin conditions.
Caffeine
Has a definite, impact on fluids in the skin, and the way that they are stored. Well known for it's ability to increase micro circulation, and reduce puffiness, it is recognized as one of the best actives for dark circles and puffiness. Caffeine attributes improved skin tone, texture and smoothness, is highly antioxidant, works as an astringent, reduces dark circles and puffiness (tissue reduction). Because of the circulation enhancement it is also well known for its ability to reduce water retention in the tissues resulting in a slenderizing effect. In a Journal of Cosmetic Medicine (2008) article it was reported to have been very effective for 80% of the subjects tested.
Calendula(Calendula officinalis)
From calendula flowers, this is one of the most effective topical oils. Contains salicilyic acid, carotenoids, and phytosterols. It's exceptional for those with sensitive skin for its gentle, cooling and soothing properties. Reduces swelling, aids wound and burn healing, helpful for acne, impetigo, eczema and sunburns. Anti-inflammatory, antispasmodic, helps healing wounds and may have anti-viral actions. Helpful for all skin inflammations.
Candelilla (Euphorbia Cerifera)
Candelilla wax is a natural vegetable wax. The plant is native to the Chihuahuan Desert of northern Mexico and western Texas, the wax is derived from the stems of the Candelilla plant. The wax occurs as the outer coating of the shrub which help the plant retain moisture. It is best known as the ingredient in chewing gum giving it its chew and ability to hold the flavor. It is also used in many cosmetic applications when the product requires a good glide property.
Caprilyic/ Capric Triglyceride
Derived from coconut oil and used as an emollient to prevent water loss from the skin.
Carnauba Wax (Copernicia prunifera)
From the leaves of the Brazilian wax palm tree,it is often used in tandem with candelilla wax. Used primarily as a thickening agent, but also has film-forming and absorbent properties.
Carrot (daucus carota sativa) Extract
Supplies the skin with a natural form of Vitamin A which is required for cellular health.
Carrot Seed Oil (Daucus carota)
The essential oil is steam distilled from the seeds of the carrot plant and has extensive and amazing skin enhancing properties, mostly for its high content of natural vitamin A and carotenes. By stimulating skin circulation, carrot seed essential oil improves elasticity and tone, repairs damaged tissues and combats the formation of wrinkles and scars. It also acts to cleanse and drain skin tissues of excess toxins and fluids.
Castor Seed Oil(Ricinus communis)
This oil is rich in fatty acids. It is very soothing and lubricating to the skin and acts as a humectant attracting moisture to the skin. Creates a protective barrier on the skin and is soothing. It is mainly composed of ricinoleic acid (87%), a fatty acid with an unusual molecular structure. The castor beans are cold-pressed to extract castor oil that is used for medicinal and cosmetic purposes.
Cedarwood (Cedrus deodora)
Anti-seborrheic, astringent. Reduces redness of the skin.
Chamomilla Flowers (Recutita Matricaria)
Reduces inflammation and soothes sensitive skin.
Chickweed (Stellaria media)
Healing and soothing anti-inflammatory for all skin types.
Cinnamon (Cinnamomum cassia)
Disinfectant, revitalizer. Cleans and stimulates the skin, revitalizes the skin surface with warm and stimulating aromatherapeutic benefits.
Citric Acid
Toner, pH balancer, antioxidant. Tones and firms the skin, reduces visible signs of aging, supplies vitamin C.
Clove Oil (Syzygium aromaticum)
Mild Stimulant, antiseptic, and analgesic, pain killer, nausea, flatulence, bronchitis, arthritis, diarrhea, sense enhancing. It is spicy, warm and sweet. Used for toothache, fungal infections, as a mosquito repellent, to relieve fatigue and melancholy, as an aphrodisiac.
Cocoa Butter(Theobroma cocoa)
It is highly protective and acts as a water repellant. It contains about 5 IU of vitamin E per ounce. Cocoa butter softens and lubricates the skin. If it smells like chocolate, that's because it's the by-product from the manufacturing of cocoa and chocolate. It reduces dryness and improves skin flexibility.
Coconut Oil (Cocus nucifera)
Derived from the coconut fruit it is used as an emollient to smooth and lubricate the skin.
Coconut Milk
Moisturizing and nourishing with antioxidant properties. Softens the skin.
Colloidal Silver
Healing antimicrobial agent, antiseptic and disinfectant.
Comfrey (Symphytum officinale)
Main active ingredient from Comftrey roots is Allantoine which promotes healing. It also protects, softens and conditions and has anti-inflammatory properties.
CoQ10(Coenzyne Q10)
also called ubiquinone is a naturally occurring enzyme found in every living cell of the body. It is essential to good health, and plays a particularly important role in vibrant, youthful-looking skin. As we age, our CoQ10 levels diminish, abetting the aging process of the skin. By bolstering levels of this important enzyme within our skin, topical applications of CoQ10 have been shown to reduce the signs of aging.
Cucumber
Revitalizer, toner. Tones and shrinks skin pores while purifying the skin, acts as a revitalizing agent.
Curcuma Xanthorrhiza Root
Curcuma Xanthorrhiza (Turmeric) grows in Southeast Asia and is a member of the Zingiberaceae (ginger family). This beautiful plant is sometimes referred to as Javanese Turmeric or temu lawak. The rhizome and root of this plant contain beneficial constituents that have been used traditionally in the treatment of acne and skin inflammations as Thai traditional medicine. More recently studies have demonstrated antioxidative, detoxifying and anticarcinogenic characteristics. Several studies have also demonstrated antimicrobial efficacy, expecially against staphylococcus mutans.
Dead Sea Salt
Obtained from the Dead Sea in Israel. Composed of salts of Potassium, Chlorine, Sodium, Calcium, Magnesium as well as Sulfur and Bromine compounds. These salts are famous for their reviving, toning and purifying qualities.
DMAE (Dimethylaminoethanol)
A naturally occurring metabolite with cholinergic properties that is used therapeutically in attention and motion disorders, and topically as an antiwrinkle treatment. Phenomenal ingredient helps prevent sagging aging skin by stimulating muscle, it boosts other antioxidants and promotes circulation.Dimethylaminoethanol (DMAE) is well known for anti-aging properties. Our DMAE is from Tartaric Acid. The tartaric acid comes from grapes. Tartaric Acid derived from Grapes works by smoothing and gently exfoliating the skin, and stimulating collagen and elastin production. It reduces the look of an uneven skin tone and texture, leaving the skin with a younger looking radiance.
Eucalyptus (Eucalyptus globulus)
Antiseptic, healer. Has anti-fungal and antibacterial properties, aids in the restoration of the epidermis.
Elder Flowers (Sambucus Nigra)
Extracted from the honey-scented flowers of the elder tree. Healing and gentle astringent for all skins especially mature or sallow skins. Reputed to soften skin and smooth wrinkles, fade freckles and soothe sunburn.
Essential fatty acids
are natural components of skin that protect against oxidative damage and help supplement the skin's intercellular matrix. We use bioactive components of natural plant oils.
Essential Oils
A volatile, rapidly evaporating oil obtained from the leaves, stem, flower, seed or root of a plant, usually carrying the odor characteristic of the plant. Essential oils add fragrance to our skin care products, as well as contribute to their healthful and beautifying qualities through their various abilities to tone, balance, relax, cleanse and invigorate. Although all essential oils are "fragrant", not all "fragrances" are essential oils. True essential oils must be plant derived. Used in cosmetics, aromatherapy, medicine, perfumery and flavoring.
Exfoliant
A product or ingredient which is used to remove unwanted tissue or waste products from the skin and other body surfaces. Exfoliant's gentle abrasive action removes dirt, leaving the skin soft and radiant.
Eyebright (Euphrasia Officinalis)
Eyebright extract calms and constricts the capillaries and used as topical treatment for eye inflammation. This tiny plant is used by herbalists to help reduce puffy eyes. Anti-inflammatory, astringent, and soothing for tired and puffy skin around the eyes.
Fir Needle (Abies siberica)
Thin clear oil derived through steam distillation of the needles of the pine tree. Strong antiseptic and deodorizing qualities. Quite useful in the sauna, and in a bath, pine eases stress and mental exhaustion. Pine is a familiar scent to most of us, reminding us of cool, green forests.
Frankincense (Boswellia carteri)
The aroma of this extract soothes and calms the mind as well as rejuvenates, balances and restores the skin. Reduces the look of fine lines and slows down the signs of aging.
French Green Clay
This classic clay has been used for ages to regulate skin's oil production. The most absorbing clay, generally used for face masks in cases of acne, oily and neglected skin. It truly cleanses, deeply and without causing damage or irritation. It literally "drinks" oils, toxic substances, and impurities from your skin. Its toning action stimulates the skin, bringing fresh blood to damaged skin cells, revitalizing the complexion while tightening pores. It has a cool feeling that calms irritated skin and can be used in body masks and for cellulite treatment on the legs. It's also a great natural colorant.
Geranium (Pelargonium graveolens)
Its beneficial skin care and cosmetic properties are numerous and powerful: cell regeneration, tissue repair, toning of skin tissues, oil and sebum regulation. It is astringent and antiseptic, and makes an excellent skin care treatment for any skin inflammation, balances oily and dry skin, and works wonderfully to reduce cellulite deposits.
Ginseng Extract (Panax quinquefolius)
Ginseng is used in cosmetics for its rejuvenating and anti-inflammatory properties. It will activate cell metabolism and prolong the life span of human cells. It has a beneficial effect on circulation and the plant regulates the tone of the smooth muscles of the blood vessels. It has also been shown that ginseng has a strong anti-radical effect. The vast amount of properties in ginseng give it an almost unlimited use in cosmetics. Its activity makes it useful in nourishing creams, in treating wrinkled and aged skin and in all cosmetic products used to retard the onset of age. When applied to the skin in a cosmetic, ginseng will form an elegant film on the skin that will tighten and smooth the treated skin immediately. In body milks and bath products, it acts by optimizing the cutaneous metabolism of the whole body. Ginseng may be used in treatment products for weak hair and lotions for preventing hair loss as it stimulates growth and gives strength.
Glycerin (vegetable, certified kosher)
Glycerin is an excellent humectant and moisturizer that regulates the absorption and release of water in the skin.
Glycolic Acid
Glycolic Acid contains powerful antioxidants for fighting free radical damage that ages skin prematurely. Derived from sugar cane extract, one of the main Alpha–Hydroxy Acids used as an exfoliant. It stimulates new formation of collagen to plump cells and reduces wrinkles on skin's surface. Glycolic acid reacts with the upper layer of the epidermis, weakening the binding properties of the lipids that hold the dead skin cells together. This allows the outer skin to "dissolve" revealing the underlying skin. It is a rejuvenator and a balancer. Increases collagen production helps to improve skin texture and diminishes the appearance hyperpigmentation as well.
Grapefruit Oil, Pink (Citrus paradisi)
Has a warm, lightly sweet and fresh citrus scent. Thought to be beneficial as an anti-depressant, as it may help relieve anxiety as well as stimulating detoxification of the body. Grapefruit may also be helpful in relieving symptoms associated with PMS. Useful for muscle fatigue, stiffness, acne, mental exhaustion, fluid retention, athlete's foot, tones congested skin, tightens skin, antiseptic, disinfectant, detoxification and anti-infectious. Astringent for oily congested skin and hair, aids hair growth. Reduces cellulite, depression and headaches. Disinfects airborne germs. Increases circulation, stimulates lymphatic system detoxification, regulates body weight with regular use. Aids jet lag, and alcohol and drug withdrawals.
Grapefruit Seed Extract (Citrus Grandis)
Grapefruit Seed Extract (GSE) is derived from grapefruit seeds. It is anti-microbial, antiseptic, anti-bacterial, astringent and also has some antioxidant activity. GSE is used as a natural preservative in skin care products. Also helps to acidify the skin's surface, making it inhospitable to bacterial growth.
Grapeseed Oil (Vitis vinifera)
The lightest of oils and virtually odorless, grapeseed oil contains vitamins, minerals, high in polyunsaturates and protein. Grapeseed oil is wonderful. It is a slight astringent and tightens and tones the skin.
Green Tea Extract (Camellia sinensis)
Green tea is often included in anti-aging skincare products for its antioxidant properties. It has three major benefits – that being a powerful antioxidant and thereby reducing free radical damage in the skin, a potent anti-inflammatory agent thereby reducing inflammation in the skin, and most importantly having a inhibitory action on collagenase (an enzymatic action in the skin where the collagen is broken down), resulting in more firm and elastic skin. The vitamin P properties and the tannins in its chemical composition give it astringent properties. It protects the skin, and later brings about vasoconstriction, reducing inflammation in the affected area and finally cell regeneration is caused as well as a wound healing activity.
Helichrysum italicum
This incredible oil aids healing scar tissue, whether from a recent wound, operation, or tissue that has been scarred for years. It stops bleeding, helps a scab to form and tissue to repair itself. Helichrysum can be used for stretch marks, acne scars, surgical scars, and wounds of all kinds. In skin care products Helichrysum is excellent for its skin-rejuvenating properties, especially dark circles under the eyes, in addition to softening the skin and aiding varicose veins. It also has remarkable effects on sensitive and inflamed skin.
Hibiscus Flower (hibiscus sabdariffa)
Is high in Vitamin C is an Anti-inflammatory that cools, softens and soothes the skin while improving elasticity.
Honey (Mel millis)
Sweet, fragrant, syrupy substance produced by bees. Honey soothes and adds softness to the skin, an excellent natural moisturizer.
Honeysuckle
Botanical name is Lonicera periclymenum-Chinese name is Jin Yin Hua. Honeysuckle flowers act as natural antihistamine, they are very useful for treating rashes and inflammation.
Huang Lian(Coptis)
Anti bacterial, healing and cooling. Very helpful with inflammation.
Hydrating
The ability to restore or maintain the normal fluid proportion in the skin or body. Hydrating agents are used in cosmetics to keep the skin natural, moist, firm and young-looking.
Hyaluronic acid
(refer to Sodium Hyaluronate in this list)
Jasmine Flower Oil
One of the precious essential oils, Jasmine is known the world over for the intoxicatingly sensuous aroma, intensely floral, warm, rich, sweet and exotic. When inhaled, Jasmine is a potent aphrodisiac, helps relieve stress, anger and anxiety and is an anti-depressant and euphoric. When added to skin care and cosmetic preparations, Jasmine essential oil soothes dry, sensitive skin, heals dermatitis, and tones aging, wrinkled skin. It is anti-inflammatory and antiseptic.
Jojoba (simmondsia chinensis) Oil
From the jojoba plant, native to the Sonoran Desert. Reduces transepidermal water loss, re-lubricates the skin, softens, prevents dryness as well as gives formulations excellent spreadability and lubricity. The trigylcerides forming jojoba's basic molecular structure are chemically similar to human sebum.In reality jojoba oil is not an oil but a liquid wax and is pronounced "ho-ho-ba".
Kaolin Clay
This is a mildly absorbent clay generally preferred for dry or sensitive skin. It's the most versatile and easily applied clay that is commonly found in skin care preparations and cosmetics. Kaolin is a fine, fluffy clay that has natural absorbency properties and is frequently found in powders, body packs, skin care products and deodorants.
Labdanum
Also known as 'Rock Rose,' 'Rose of Sharon,' and 'Cistus' oil, labdanum has been studied for its regenerative effects on cells. In aromatherapy it is used to heighten the senses of touch, feeling, sight, and sound by inhaling through diffusion.
Lactic Acid
Traditionally lactic acid is produced through fermentation of plant derived carbohydrates. It is an Exfoliant and it accelerates removal of dead skin cells and promotes the growth of new ones.
Lavender Oil
Lavender's characteristic sweet floral and herbal scent is well known and easily recognizable. Its numerous beneficial properties make it a very worthwhile additive in skin care, cosmetic and aromatherapy preparations. First recognized for its potent cell regeneration and repair capabilities, lavender was used as a healing substance for wounds and burns. Its active components work to increase cellular activity and actually prevent cell death. It is powerfully antiseptic, anti-bacterial and anti-fungal, and also works to regulate the production of sebum. And it doesn't stop there - when inhaled, the aroma of lavender is calming and anti-depressive and promotes restful sleep.
Lecithin (Sunflower Lecithin)(Helianthus annuus)
A natural antioxidant and emulsifier found in Soybeans, Grape Seeds and Sunflower Seeds. Lecithin has excellent emollient benefits as a softening and soothing agent and is a source of choline and vitamin B. It is a super skin restorative agent and has magnificent moisturizing properties, helping to hydrate the skin. This makes it excellent for products designed for mature, dry or overworked skin. It also has the unique ability to deeply penetrate the skin, and carry substances directly to the cells and the bloodstream. Because of this, lecithin may assist the body in absorbing other properties as well, bringing those beneficial properties to the cellular level.Our lecithin comes from Sunflower seeds.
Lemon balm (Melissa officinalis)
Lemon balm is suitable for any skin type. It offers anti-viral and anti-inflammatory action. It is a good choice for rashes, skin irritations, sunburn, eczema and herpes sores.
Lemon Peel Oil
Lemon pure essential oil has the wonderful characteristic scent of freshly peeled lemon rind. When used in cellulite treatments, lemon essential oil acts as a depurative and lymphatic stimulant, draining tissues of excess fluids and toxins. When added to skin care and cosmetic treatments, use is made of its anti-bacterial, astringent and cell-regenerative properties. When inhaled, the scent of lemon essential oil is refreshing and uplifting.
Lemongrass Leaf Oil
A fresh, earthy scent, lemongrass is especially good for oily, acne-prone skin. Aids with infections, acne, enlarged pores, blackheads, tissue toner, cellulite and skin care for its astringent, calmative, antiseptic, anti-infectious and anti-parasitic and antifungal properties. Good for hair, face and body, improves muscle tone. Acts as an insect repellent and fights ringworm. According to researchers, it is more effective against staph infections than either penicillin or streptomycin.
Leuconostoc Ferment Filtrate(Radish Root)
a natural, plant based preservative, it is derived from Leuconostoc kimchii, the bacteria that has traditionally been used to make kimchi. This product consists of a peptide that is secreted from the bacteria during the fermentation process that has been shown to successfully inhibit microbial growth.
Licorice Root Extract
Licorice extract is one of nature's most subtle and yet effective skin lightening agents. A natural skin fading agent that is an anti-irritant and relaxant that has a depigmenting effect as well as an inhibitory effect on melanin synthesis due to its ability to act as an inhibitor. Used to clarify and lighten the skin. As a depigmenting agent, licorice extract is more effective than kojic acid and 75 times more effective than ascorbic acid. It is used externally for eczema, herpes and shingles and the anti-inflammatory effect of this herb is most useful for treating sunburn as well as insect bites.
Lime
Highly antioxidant. Supplies high levels of vitamin C, combats free radicals and protects the skin.
Litsea Cubeba Oil
Also known as may chang, litsea cubeba oil is uplifting and refreshing, making it an effective tool to fight against acne, oil skin and hair, and excessive perspiration. Due to its insect repelling properties it is also often found in bug repellant blends. Another common use for this oil is in soaps and lotions, as it tends to be a scent fixative.
Mandarin Oil, Red
This oil's fruity, cheerful aroma is invigorating and uplifting. Its astringent properties make it beneficial for skin tone, while natural antioxidants help protect the skin. Often used preparations to lessen stretch marks, scarring, acne, dull skin, oily skin, scars, spots, stress, and wrinkles.
Mango Butter
Comes from the mango seed & has excellent moisturising & lubricating qualities.
Marshmallow Root
Anti-irritant, anti-inflammatory. Reduces skin inflammation, provides relief from irritation caused by dryness.
Meadowfoam Seed Oil (Limnanthes alba)
re-moisturizes the skin in ways no other oil can. It is an oil that is stable, non-greasy and rapidly absorbed and is ideal for those products where a soft, smooth, silky feel is required whether it is on skin or hair. In lipsticks it helps revitalize dry, cracked lips and keeps them moist longer, it also provides adhesion so lipsticks stay on longer.
Melon Fruit Extract (Cucumis melo cantalupensis)
Cucumis melo cantalupensis - a variety of muskmelon vine having fruit with a tan rind and orange flesh. Astringent, conditions the skin.
MICA
A lightweight, natural mineral powder that provides color and a fine shimmer in cosmetics It also helps to hide imperfections, while boosting skin's radiance.
Mineral Colorants
Natural minerals from the Earth are used to color products.
Myrrh Oil
Warm, smoky, slightly musty and earthy scent. It has good antiseptic, anti-inflammatory, fungicidal, calming and expectorant properties. Myrrh is an effective anti-microbial agent used in the treatment of mouth infections and catarrhal problems such as pharyngitis and sinusitis. Externally, myrrh has been used to treat wounds and abrasions. On the skin, it is excellent to treat inflamed or chapped skin, wounds and sores, especially weeping eczemas, skin ulcers and bed sores, and since it promotes cell regeneration, it is used effectively on mature skin, as well as sorting out deep cracks on the feet and hands.
Neroli Oil
One of the precious essential oils, neroli has a distinct, yet light and refreshing floral/citrus scent. Its high price makes it an uncommon additive, except in the most expensive perfumes. When inhaled, the scent of neroli essential oil is an anti-depressant and mild sedative, and has aphrodisiac properties. As an additive in skin care and cosmetic preparations, neroli's ability to promote cell regeneration, soothe inflamed and painful skin, and treat stretch marks makes it price worthwhile.
Nettle Leaf Urtica Dioica)
Helps with skin conditions by assisting with the removal of toxins from the body. It can be used externally for arthritis and rheumatic pain, sciatica, neuralgia as well as burns and insect bites, as it has a non-steroidal anti-inflammatory effect. Nettle is a highly nutritious herb containing Vitamins K and A, calcium, iron, and magnesium.
Oak moss
Oak moss is a kind of moss or lichen that grows on the branches of an oak tree. It is widely distributed all over Europe and North America. Evernia prunastri (scientific name for oak moss) may be ugly looking with its greenish and wet appearance, but it has some striking medicinal properties. The essential oil of oak moss can be used as an antiseptic. It protects us from septic conditions by creating unfavorable conditions for microbial. It can be soothing for any type of inflammation or irritation: it is a demulcent. It soothes the skin, and it keeps it smooth and soft by maintaining the moisture and oil balance of the skin.
Oatmeal (Gluten Free)
Anti-irritant and anti-inflammatory properties, oatmeal is a wonderful skin care additive. It's gentle and soothing, yet a thorough skin-cleansing agent and exfoliant. It is very helpful for dry, sensitive and irritated skin, reducing redness and itching. Oatmeal will remove the tiniest particles of dirt and absorb oils while refining the pores and controlling the skin's production of oil, leaving a silky smooth feel. It also works wonders on rashes or skin abrasions. Minor skin irritations caused by dermatitis, eczema, poison oak, chicken pox, insect bites, sunburn and excessively dry skin may all be temporarily relieved by oatmeal baths.
Olive Oil, Extra Virgin
Highly nutritive and stable, extra virgin olive oil contains protein, minerals and vitamins. It has superior penetrating power. It has acidic and antioxidant values. Olive oil is high in unsaponifiables, which is a large group of compounds called plant steroids or sterolins. They soften the skin, have superior moisturizing effect on the upper layer of the skin and reduce scars.
Orange Peel Oil, Sweet
The scent of orange reduces anxiety and lightly lowers high blood pressure. Used in a massage it relaxes and provide energy, as may ease indigestion and constipation. Orange makes an excellent facial and body moisturizer, encouraging radiant, rejuvenated and younger looking skin. This oil can be effective to the immune system for colds and flu and can help eliminate toxins, and as a diuretic it is useful for water retention and obesity.
Panthenol
Pro-vitamin B-12, a moisturizer and humectant that has also been shown to stimulate cellular proliferation, aid in tissue repair and have an anti-inflammatory effects on the skin. It is a component derived from rice, and rice husk.
Passion Flower Fruit Oil
Passion Flower Oil, Passiflora incarnata, also known as Maracuja Oil, or sometimes spelled Passionflower Oil is a superior emollient rich in vitamin C, calcium and phosphorus. The high content of essential fatty acids and light texture of Maracuja Oil (Passion Flower Oil) makes it a valuable contribution to nourish the skin wonderfully.
Patchouli Oil
Patchouli's rich, warm, spicy, and earthy aroma was made popular in the 60s in perfumes and incenses. When inhaled, it's anti-depressive, aphrodisiac and mildly calming. In skin care, patchouli is a potent anti-inflammatory, anti-bacterial and anti-fungal agent. It supports the regeneration of new cells and tissues and is excellent for dry, aging, wrinkled skin and for the treatment of acne, psoriasis, burns and wounds.
Peppermint Leaves
Antioxidant, anti-bacterial. Soothing and cleansing to skin. Fresh, clean fragrance. Heals the skin, combats free radicals and supplies vitamins A and C.
Peppermint Oil
Peppermint is cooling to the body, as well as energizing and uplifting to the mind. Its anti-inflammatory cleansing properties make it the ideal ingredient in skin care and cosmetic preparations for oily, acne-prone skin, though it is wonderfully toning and cleansing for all skin types. Combats free radicals and supplies vitamins A and C.
Plantain (Plantago major)
Regenerating and rejuvenating. An anti-irritant that promotes the healing of skin and the absorption of nutrients.
Potassium Sorbate
An organic salt used to inhibit the development of microorganisms for shelf stability. It is a safe preservative to use in place of harmful parabens.
Pumice
Volcanic origin, used for its exfoliating action. It removes dull skin.
Pumpkin Seed Oil
Also known as "green gold", pumpkin seed oil. It contains Omega-3 and Omega-6 fatty acids, Vitamins A, C, E, K and Zinc. It is a light colored oil obtained from the seeds of the Cucurbita Pepo Seed. It is known to contain phytosterols and Omega-3, 6 and 9 fatty acids, all beneficial to good cellular health. This nourishing and lubricating oil is useful for all skin types and is especially good to combat fine facial lines and superficial dryness because of its high protein, zinc, polyunsaturated fats as well as the fatty acid content.
Red Raspberry Seed Oil (Rubus Idaeus)
Has an exceptionally high proportion of alpha and gamma tocopherols (Vitamin E), vitamin A and omega-3 and omega-6 fatty acids. Also offers sun protection from damaging UV-A and UV-B rays.
RETINYL PALMITATE, RETINOL–A
A form of vitamin A, essential to normal functioning of the skin. Studies show that retinol lotion transforms into Retin–A in the skin yielding significant difference in skin wrinkling. It aids in keeping the skin soft. It helps restore pink color to aging skin.
Rosehip Seed Oil
Rose Hip Oil is extracted from the seeds contained in the intensely red berry-like fruits -or hips. This lightweight oil is rich in essential fatty acids (linoleic, linlenic, and oleic acids), powerful antioxidants (Lycopene) and vitamins (Vitamin A, Beta-Carotene and Vitamin C). Helps to soothe, repair and prevent damage from free radicals. It is a very light easily absorbed oil, a real skin food. Helps heal & balance the skin.
Rosemary Leaf Oil
Rosemary essential oil has a fresh, woody/herbal scent, and is anti-depressive and uplifting when inhaled. It is an excellent natural ingredient in scalp and hair treatments, strengthening thin hair and preventing hair loss. It is astringent and antiseptic, cleaning and toning to the skin and scalp, and it stimulates and improves skin circulation and metabolism. It is excellent for all skin types, particularly oily, acne-prone skin and eczema. Rosemary essential oil also speeds healing of wounds and burns. This variety of Rosemary essential oil is soft, warm, sweet, and most skin-friendly.
Rosemary Oil Extract
Rosemary oil extract (ROE) also acts as a natural oil-soluble antioxidant to prevent rancidity in oils.
Rose Otto Oil
is known for its balancing effect on female hormones, its ability to calm the mind and its comfort for those suffering from grief. Within aromatherapy work, Rose Otto Essential Oil is used in anti-depression blends and blends for menopause and irregular cycles. It is also useful in facial formulations as it helps with dry, maturing skin and wrinkles as well calming any skin type.
Rosewater
The aromatic "hydrosol" or "floral water" is the run-off water from the distillation process used to create the purest grade Bulgarian rose essential oil from organic rose petals. Because of its natural acids, it's hydrating and anti-inflammatory. Rosewater is also anti-viral, antiseptic and has disinfectant properties. Has a lovely natural uplifting floral fragrance. In skin care it can clear up blemishes, has been known to herpes blisters, moisturize skin, calm inflamed skin due to Rosacea and makes a great compress to ease sore, tired eyes.
Rosewood Oil
Rosewood, with its rich floral aroma, can be an aphrodisiac, an antidepressant, and a general balancer to the emotions. In skin care, it is said to stimulate new cell growth, regenerate tissues and help minimize lines and wrinkles. It helps balance both dry and oily skin, and can prove helpful against acne.
Sage
Is an antioxidant and a toner. Rejuvenates and tones the skin, has antiseptic properties.
Salicylic Acid
Salicylic Acid occurs naturally in willow bark, sweet birch and other plants. It is a Beta Hydroxy Acid (BHA) which has keratolytic, anti-acne and fungicidal proprties. Salicylic acid peels are particularly useful for patients with oily and acne prone skin. Salicylic Acid is an exfoliant, anti-inflammatory and antiseptic. Removes surface impurities, evens and soothes the complexion, disinfects the skin.
Sandalwood Oil
It has an astringent effect on the skin and helps soothe irritated skin. It balances the mind and spirit, aids in meditation, calms the nervous system, and works as an aphrodisiac.
Sea Buckthorn Seed Oil
A useful, highly prized, and specific oil typically used to treat damaged skin, ulcerations, cancer, acne, dermatitis, scar tissue, wrinkles, eczema, burns from whole Sea Buckthorn berries (Hippophae rhamnoides). It supports healthy skin growth by high amounts of polyunsaturated fatty acids, tocopherols, and beta carotene. Sea buckthorn seed oil promotes cell tissue growth, restoring skin tissue, supports wound healing, protects skin from anti-inflammatory effect, UV damage and absorption. Sea Buckthorn extracts can actually improve metabolism and retard skin maturation, thus slowing the aging process, possibly because of the effects of its high levels of Vitamins A and E. Russian cosmonauts use its oil for protection against radiation burns in space. Current research indicates that not only does it enhance immune activity and disease resistance, but it also destroys harmful free radicals found on the skin. Hair care products made with Sea Buckthorn have the effect of retarding baldness and improving hair growth. This oil is exceptionally rich in essential fatty acids, carotenes, tocopherols, and phytosterols.
Shea Butter (butyrospermum parkii)
A natural fat obtained from the fruit of the karite tree. Protects skin from dehydration, restores suppleness, increases moisturization and can improve the appearance of dry, irritated skin. It has vitamin A, E and is highly compatible with skin. Shea butter has a high content of unsaponifiables and cinnamic esters, which have antimicrobial and moisturizing properties and provide natural protection against the sun's damaging UV rays, reducing sun exposure, which can delay the appearance of fine lines and wrinkles. Shea butter is renowned for its skin softening and superior moisture retaining ability and capacity to reduce scar tissue.
Sodium Hyaluronate
also know as Hyaluronic acid, a major component of Mucopolysaccharides and a natural moisturizing factor found in human cells. This humectant has powerful water–binding abilities, it holds as much as 1000 times its own weight in water. Collagen and elastin supporter, derived from sugar beets, it helps keep the skin moist, pliable, supple and younger looking. It reinforces skin's short and long term moisturization, helps to plump up the tissue to restore elasticity and diminish appearance of fine lines and wrinkles.. Hyaluronic Acd is a component of skin's Natural Moisturizing Factor.
Squalane (Olive)
Colorless and odorless, it is steam distilled from olive oil. No chemical solvents are used in the process. Think of squalane as the "best" component of olive oil for the skin. It is soft, silky and non-greasy to the touch. It is structured much the same as Vitamin A, which is one of the main nutrients necessary for healthy skin. Because squalane oil is so fine, it is absorbed deep into the skin very quickly. It has a natural affinity to the skin because it is one of the components of human sebum. Squalane boosts the skin's ability to naturally regenerate, nourish, hydrate, oxygenate and protect itself.
St. John's Wort (HYPERICUM PERFORATUM)
Has a wide range of medicinal uses; it is an antibacterial used to heal deep cuts and wounds, soothes and eases the pain of burns by lowering skin temperature, and is a diurectic, helping to eliminate waste materials from the body.
Sugar Cane (saccharum officinarum)Extract
A natural source of skin-smoothing glycolic acid, an alpha hydroxy acid. Glycolic Acid sweeps away dead skin cells and has anti-wrinkle and anti-aging benefits.
Sweet Blue Lupine (Peptides)
Sweet Blue Lupine Protein: this active ingredient is high in powerful oligosaccharides and glutaminated peptides. These amino acid chains stimulate a repair response in the skin, bringing up collagen production and improving barrier function making them very important for dry and mature skin. Showing results equivalent to the best of synthetic alternatives, it is one of the Ecocert natural ingredients to have been scientifically proven to keep your skin conditioned and supple. It is a superb conditioner, thanks to its differently sized peptide molecules, protecting your skin from free radicals. It is ultra effective in a single application.
Tangerine Peel Oil
Similar to Mandarin, it has a light, spicy-sweet citrus aroma with a cheering and soothing quality. Relaxing addition to bath water for cramped muscles, PMS, and stress. Tangerine is an Antioxidant; high in vitamins and folic acid It also helps with scar tissue, stretch marks and fluid retention.
Tea Tree Oil
A potent anti-fungal, antiseptic, anti-viral and anti-bacterial oil, tea tree makes an excellent treatment for a wide spectrum of skin ailments and complaints, from acne, athlete's foot, toenail fungus, yeast infections, cold sores and mouth ulcers. Its powerful germ fighting capabilities do not make it irritating or toxic to even sensitive skin. Tocopherol (Vitamin E): Vitamin E is an antioxidant that actively scavenges free radicals on the surface of the skin (as well as in a cosmetic product) which helps to boost the product's preservative system.
Usnea (Barbata) Lichen
Usnea Lichen Extract is obtained from Usnea Barbata. It contains antimicrobial usnic acids.The antimicrobial activity of usnic acid has been widely documented in the literature against gram positive Staphylococcus and Streptococcus and the fungi Trichophyton and Candida and also against gram negative bacteria. Multifunctional Usnea Lichen Extract has demonstrated both antimicrobial efficacy and anti-inflammatory characteristics. Other testing has demonstrated potent antimicrobial activity against Propionibacterium acnes, Corynegacterium pseudodiphtericum and pityrosporon ovale. These bacteria and yeast are typically associated with dermatological problems.
Vanilla
Vanilla essential oil is actually an oleoresin, a combination of essential oil and resin, extracted with organic alcohol. It's warm, soothing scent is sensual, warm and aphrodisiac. In skin care it is calming, soothing and improves circulation.
Vetiver
has a grounding, earthy scent. It is considered to be deeply relaxing and often used in baths and massage for issues relating to nervous tension, debility, insomnia, and depression. Its skin care applications it accelerates the healing of cuts and wounds.
Vitamin A
Reduces fine lines and wrinkles. Another name for Retinol.
Vitamin C
is a major antioxidant that stimulate the synthesis of collagen and elastin. It keeps skin bright, strong and resilient while improving tone and minimizing fine lines, scars and wrinkles. Vitamin C also acts as an anti-inflammatory and helps prevent sun damage.
Vitamin E Oil
Vitamin E acts as a free radical scavenger, hinders the oxidizing process in the skin and promotes soft and supple skin. As an antioxidant it defends the skin. Helpful in reducing scars and promotes healing. Vitamin E acts as a natural antioxidant for skin care and cosmetic products and is obtained by vacuum distillation of edible vegetable oils. Vitamin E is also an emollient.
Watermelon
High in antioxidants. Fights free radicals and is rich in vitamins A, B and C.
White Tea (White Peony)
Antioxidant, phenol and vitamin C rich immunity booster.
Wild Carrot
Anti-irritant; soothing anti-inflammatory.
Willow Bark Extract
has soothing and pain relieving properties on irritated skin and works as an astringent, mild cleanser and toner. It also moisturizes skin. Oxford study indicated that willow bark extract and tea tree oil are effective and safe treatment for Acne and blemishes.
Witch Hazel
A soothing and mild astringent that helps shrink pores, makes witch hazel an ideal natural astringent, especially for oily or blemished skin. It's also used to treat skin irritations, inflammation, bruises, insect bites and burns. Extracted from the bark and leaves of the plant, witch hazel is a liquid extraction from containing water and alcohol with natural antibacterial properties.
Xantham Gum
A cream-colored, odorless powder. Xanthan gum is a polysaccharide produced by a process involving fermentation of sugar syrup by bacterium Xanthomonas campestris. It has some skin hydrating and is used in personal care products as an emulsion stabilizer.
Ylang Ylang Oil
It has a distinctive sweet, floral-balsamic, slightly spicy quality. It's known as an anti-depressant, relaxing to body, mind and spirit, as well as an aphrodisiac. Ylang Ylang Flower oil is prized for its ability to soothe and balance the skin.
Zinc Oxide
Zinc oxide is a white mineral pigment with skin protecting properties. It can be used as a physical sun block. It reflects both UVA/ UVB rays. At OBVITA Organics we never use nano particles.